Payment options from Wool and Woodies.
You can pay with us in two ways. Via iDEAL and via prepayment.
1. iDEAL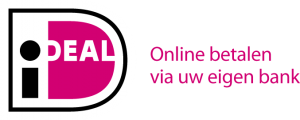 Do you do internet banking with ABN AMRO, ASN Bank, Bunq, ING bank, Knab, Rabobank, SNS Bank, Regiobank, Van Lanschot or Triodos Bank? Then you have access to iDEAL, the easiest way to pay on the internet.
Why pay with iDEAL?
Fast, simple and safe online via your own bank,

No special software required to use iDEAL,

Paying with iDEAL is always completely FREE at WoodenPlay.
2. Pre-payment
Prepay means that after entering your order you transfer the outstanding order amount to our bank account. When manually transferring, always mention the order number from your order confirmation.
Our account information is:
Annie Made It
IBAN: NL58RABO0325792232
BIC: RABONL2U
Prepayment is not the fastest method of payment. Keep in mind that it takes one to three working days for the amount to be transferred. As soon as we have received the payment, we will immediately email you a confirmation of receipt and send the order.
Why should I choose to pay in advance?
Prepay is safe and does not involve any additional costs.

Canceling an order is easy. Please contact our customer service for this.